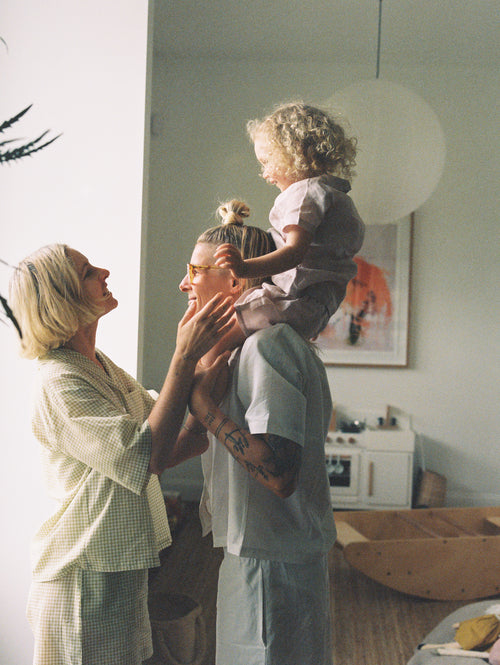 Lia-Belle, Lotte and Ophelia
 We try to keep things pretty neutral and close to natural colour and texture-wise. Everything is a natural fibre, and our palette is fairly subdued to as to create a calming, open space, lots of off white and soft green. Atop our fireplace is a collection of brass singing bowls, incense burners, crystals and sage sticks, we light incense daily and will sage our home once a week. These rituals draw us inward and ground us.
Peaceful spaces within our home that we most cherish, and retreat to with books and cuddles are our deep linen lounge and our bed. Both are soft and safe and luxurious and as a family, we surrender to their comfort in the late nights and early mornings.
 A swim in the ocean when it's just those few degrees too cold helps to wash away anything, and absolutely resets the mind and body and rids it of all the stress it might be holding. 
After a stressful day at work, a podcast on the drive home is so nice to help pull your focus into a new space and gain some insight or be inspired or motivated by something other than your own life and work. If all else fails, a bath loaded with lavender oil and magnesium salts, and some Bodha essential oil burning in the background is a recipe for some sublime relaxation.
 (Lia-Belle) I tend to experience quite vivid dreams and in the past have also had premonitions. So sometimes sleep can be a real portal for spiritual exchange and I wake up feeling exhausted or even a bit rattled. I'm getting better at knowing what was a dream and what was something else and luckily I have also improved my ability to protect myself during my sleep from those things happening as much as they used to. Going back to work recently has also meant that I am extra tired when my head hits the pillow so my deeper sleep states means these types of dreams aren't as frequent as they once were. Thank goodness.
Lotte is a heavy and peaceful sleeper and hardly ever dreams. Her twice daily meditation practices do allow for some pretty profound messages to come through though!
 We listen to guided meditations by Jason Stephenson, and the Yoga Nidra Journey Into Sleep meditation on the Insight Timer app. Manoj Dias also has some really wonderful meditations that we regularly listen to. 
We prolong that feeling of rest with a good book, coffee and pancakes! Sometimes Ophelia sleeps in until 7am and when that happens it's the ultimate.
 Lotte always travels with photos and letters from Opi and I tucked away into her suitcase, jackets pocket and book pages. 
My father practiced Buddhism and before he passed away he gave a little Buddha figure. The Buddha is carrying a sack and it's a travelling Buddha to bring protection. I keep it in my wallet and never go anywhere without it. Other than that books bring me great comfort and manage squeeze one or two into a bag wherever I go. A little ambitious with a two-year-old I know, but I try to read a few pages each day. At the moment I'm reading Gift from the Sea by Anne Morrow Lindbergh.
Meditation, yoga, journaling, time in nature, time alone, surrounded in silence, big laughs, vulnerable, honest and ultimately healing conversations with oneself and close friends, a vegan diet even if just for one week, hot water with lemon, carrying a crystal in my pocket.
Lia-Belle, Lotte and Ophelia